Zanzibar is a semi-autonomous archipelago off the coast of Tanzania in East Africa. It consists of Zanzibar Island (locally known as Unguja), Pemba Island and many smaller islands. 
The name means 'black coast'. The other name for this region, however, is 'Spice Islands', because the islands produce a large number of cloves, nutmeg, cinnamon and black pepper.
Interesting fact about Zanzibar is that in 1896, it was the location of the world's shortest war. It surrendered to Britain after 38 minutes of naval bombardment.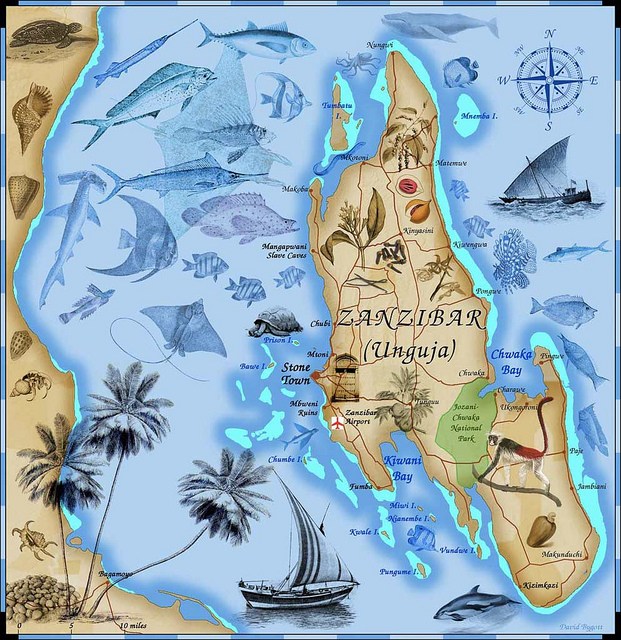 Source:https://i2.wp.com/tanzaniasafariszanzibartravel.org/wp-content/uploads/2014/07/zanzibar-maps-tanzania-maps-africa-maps-1.jpg?fit=621%2C640
1. Where to go
Stone Town
Officially, the capital city of Zanzibar is Zanzibar City but its most interesting part is also one of the biggest tourist sites on the island. Stone Town, the city's old part is a former capital of the Zanzibar Sultanate and was the flourishing centre of the spice trade and slave trade in the 19th century. The old city's prominence is based on the historical, artistic and architectural importance in East Africa. The name "Stone Town" comes from the use of coral stone as the main construction material; giving the town a characteristic reddish warm colour.
The city is also full of major historical buildings, all worth a visit.

The Old Dispensary is one of the most finely decorated buildings of Stone Town, with large carved wooden balconies and stained-glass windows. The House of Wonders (or The Palace of Wonders) is one of the city's most well-known landmarks. It was the first building in Zanzibar to have electricity and also the first building in East Africa to have a lift. That's why it was given such a magical name.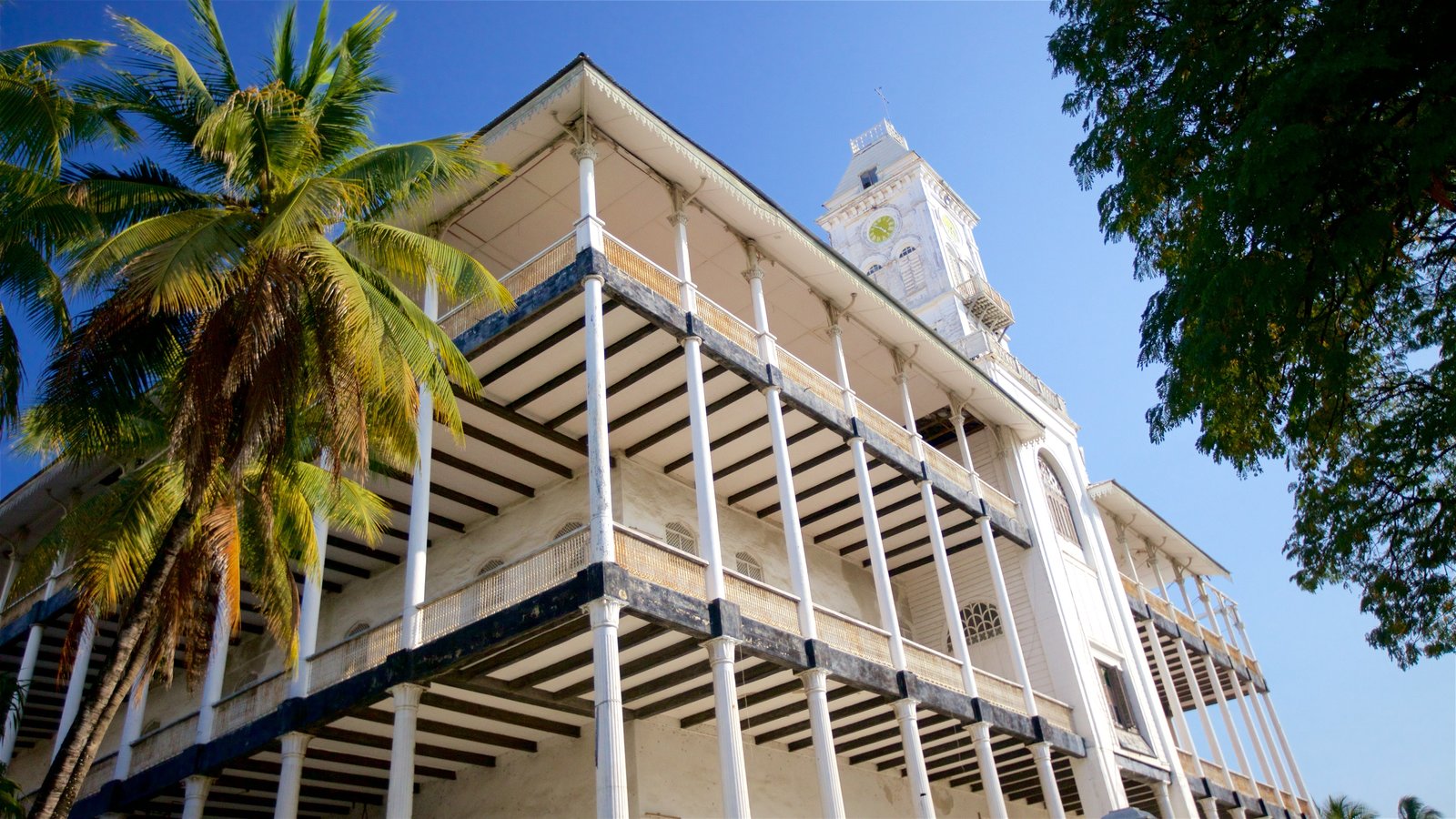 Source:https://a.travel-assets.com/findyours-php/viewfinder/images/res60/222000/222944-House-Of-Wonders.jpg
 Right next to it stands The Old Fort of Zanzibar. It is a heavy stone fortress built to protect the city from European invasions. It is now a cultural centre with shops, workshops, and a small arena for daily artistic performances. It is also the location of Zanzibar's most famous event, the Zanzibar International Film Festival. Every July, this event showcases the best of the Swahili Coast arts scene. And as the last stop on your walk, you can go see the Forodhani Gardens which lie right in front of The Old Fort. It is a small garden which hosts a popular, tourist-oriented market every day after sunset. Prices here are extremely reasonable.

Kidichi
Kidichi is a small town located 11 km northeast of Zanzibar City, and it is famous for its Hamamni Persian Baths. This bathhouse was built by Sultan Seyyid Said for his Persian wife, Scheherezade. It is most often visited as a part of one of the spice tours the 'Spice Islands' are so well-known for. On the spice farms, you can see how anise, pepper, cloves and many more spices grow and you can sample some of the exotic fruit on the island. Also, make sure to check out the 'lipstick tree'.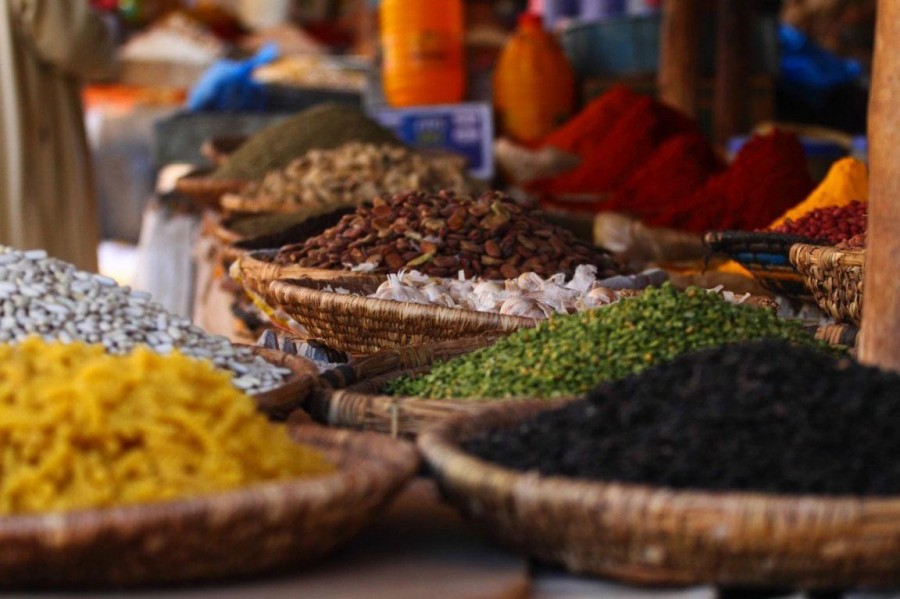 Source:http://cdn.shadowsofafrica.com/media/catalog/product/cache/1/image/900x/040ec09b1e35df139433887a97daa66f/z/a/zanzibar_spice_farm_tour.jpg
Wolfare- Travelling has never been easier  
Nature
There is a lot of beautiful nature to see and enjoy on Zanzibar Island. There are a lot of caves which can be explored, Tanzania or Kuumbi caves one of the most beautiful. A tour company called "Mambo Poa Tours" offers excursions off the beaten track or village tours that are offered all over the island. The villagers don't see tourists as intruders; to the contrary, they welcome foreigners.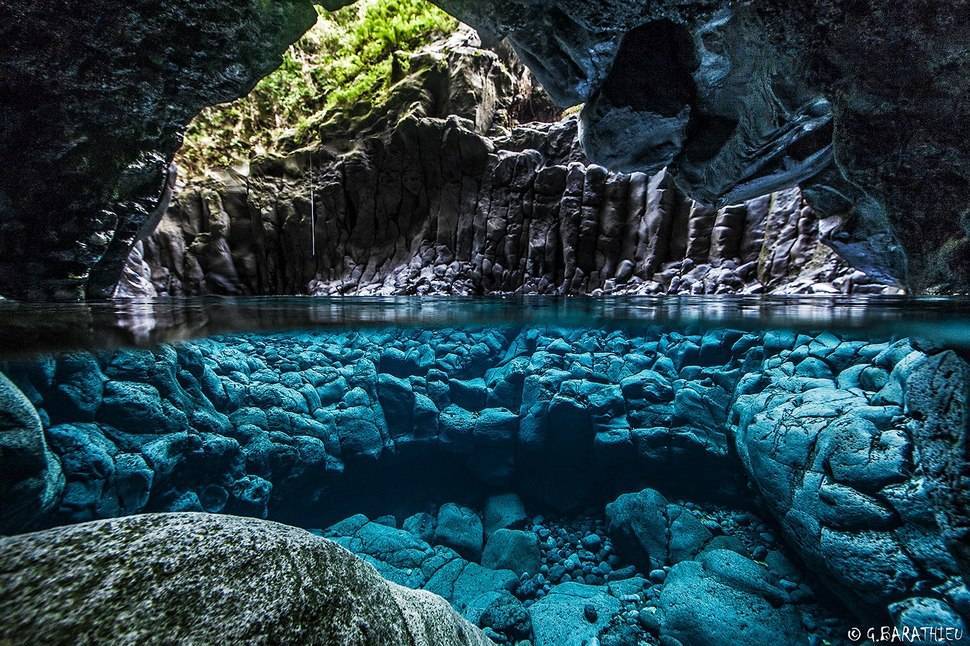 Source:https://cdn1.wimp.com/images/sthumbs2015/05/94f2fff50de4501ab60a17d3ad09272c_5.jpg
Jozani Forest offers beautiful nature trails and some very exotic trees and plants. The most interesting, however, are the Red Colobus Monkeys that live here. These monkeys can only survive on Zanzibar, therefore seeing them and taking a picture with them is truly a special experience. They are a protected species and a large portion of the entry fee goes to the local farmers who upkeep the area. The entry fee (USD10) also includes an entry to a beautiful mangrove forest.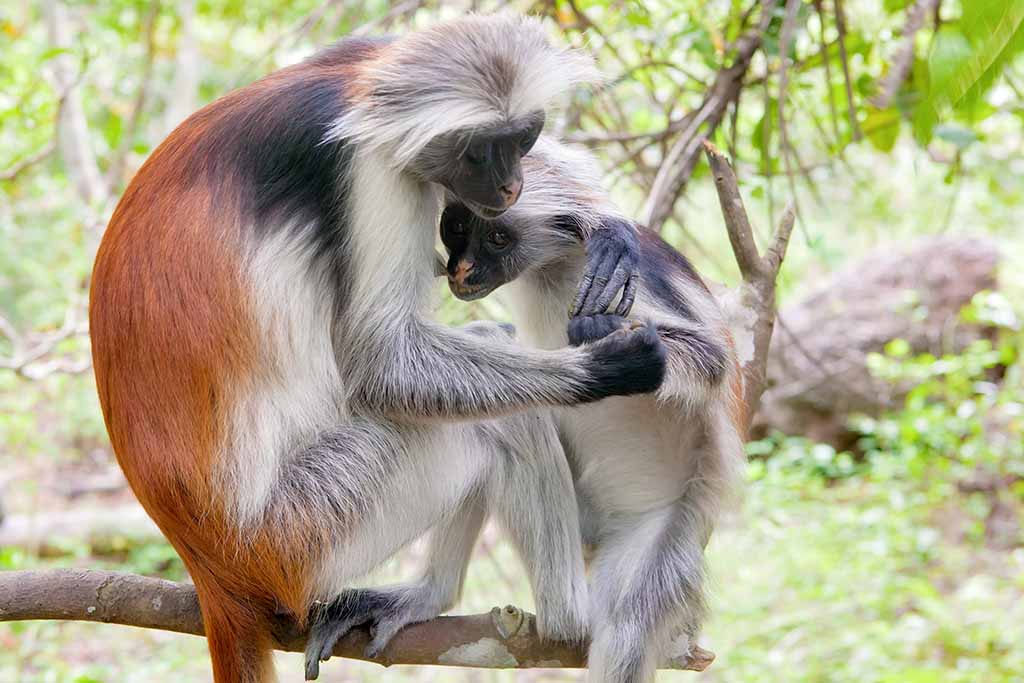 Source: https://www.pitara.com/wordpress/wp-content/uploads/2001/11/red-colobus.jpg
Beaches
Of course, the most characteristic and arguably, most beautiful sight in Zanzibar are its beaches. They are filled with brilliant white sand with the consistency of castor sugar and the warm deep teal-coloured waters of the Indian Ocean.
The most popular beaches are in the north, east and the south coast, like Nungwi/Kendwa, Matemwe/Kiwengwa and Paje/Jambiani, each offering a different appeal.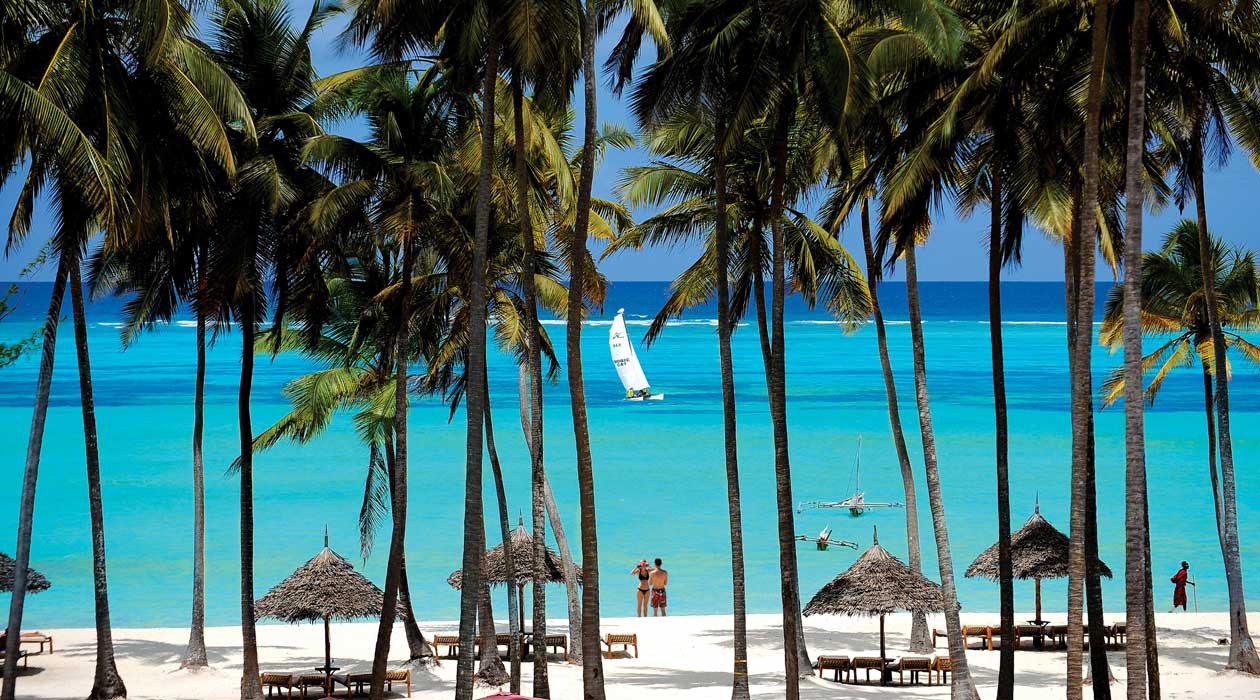 Source:https://penguin.com.ua/wp-content/uploads/2016/08/zanzibar-dream-of-zanzibar-beach.jpg
If you are the adventurous type but still want to enjoy the beach, you can try surfing. The south-east coast guarantees and uncrowded surf in crystal clear warm waters with a consistent waist-high wave for beginners and shoulder to head-high wave for advanced surfers.
There are plenty of opportunities for scuba diving also.

For more fun, you can check out the Seaweed Centre on Zanzibar Island, where 3% of the world's commercial harvest of seaweed takes place, or the Zanzibar Butterfly Centre.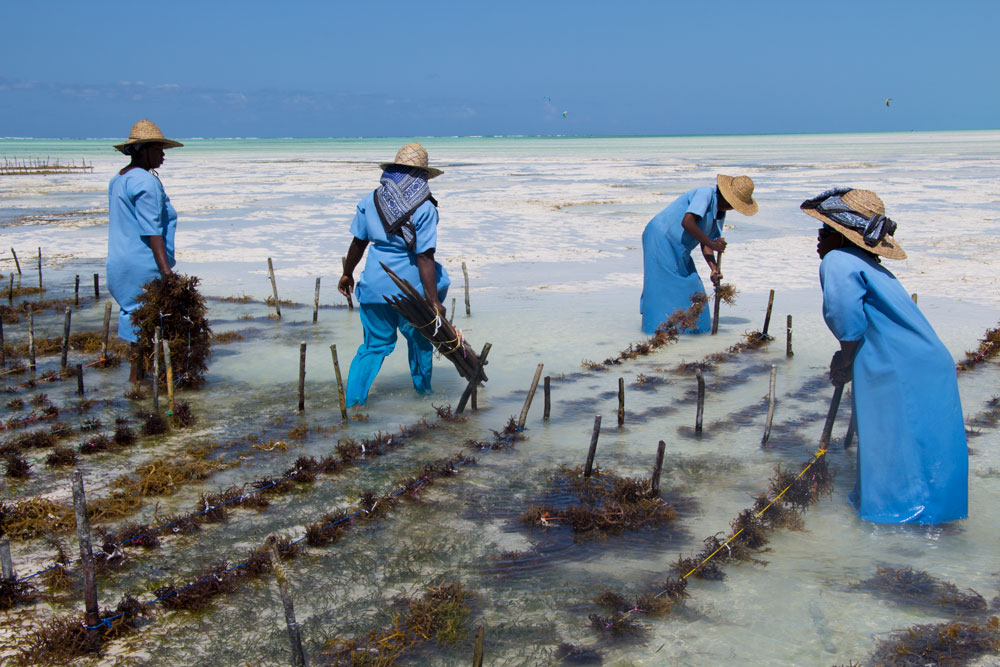 Source:http://akomanet.com/content/images/stories/fc6b6930ae450c9fd2d339ec6849e5481469045296747.jpeg
2. Transport
Zanzibar has 1,600 km of roads, of which 85% are tarmacked. The rest are earth roads, but these are being taken care of to make sure they are passable all year round. If you want to rent a car in the country, make sure you choose a car company with excellent reviews. You need to have your driving license, the temporary Zanzibar drivers permit and the car insurance on your person. You also need to have road license stickers on the windscreen. These are important because there are many police checks on the roads. The temporary Zanzibar drivers permit can be obtained from the local authorities.

There is no government-owned public transportation in Zanzibar and the privately owned Daladala, as it is officially known in Zanzibar, is the only kind of public transportation available.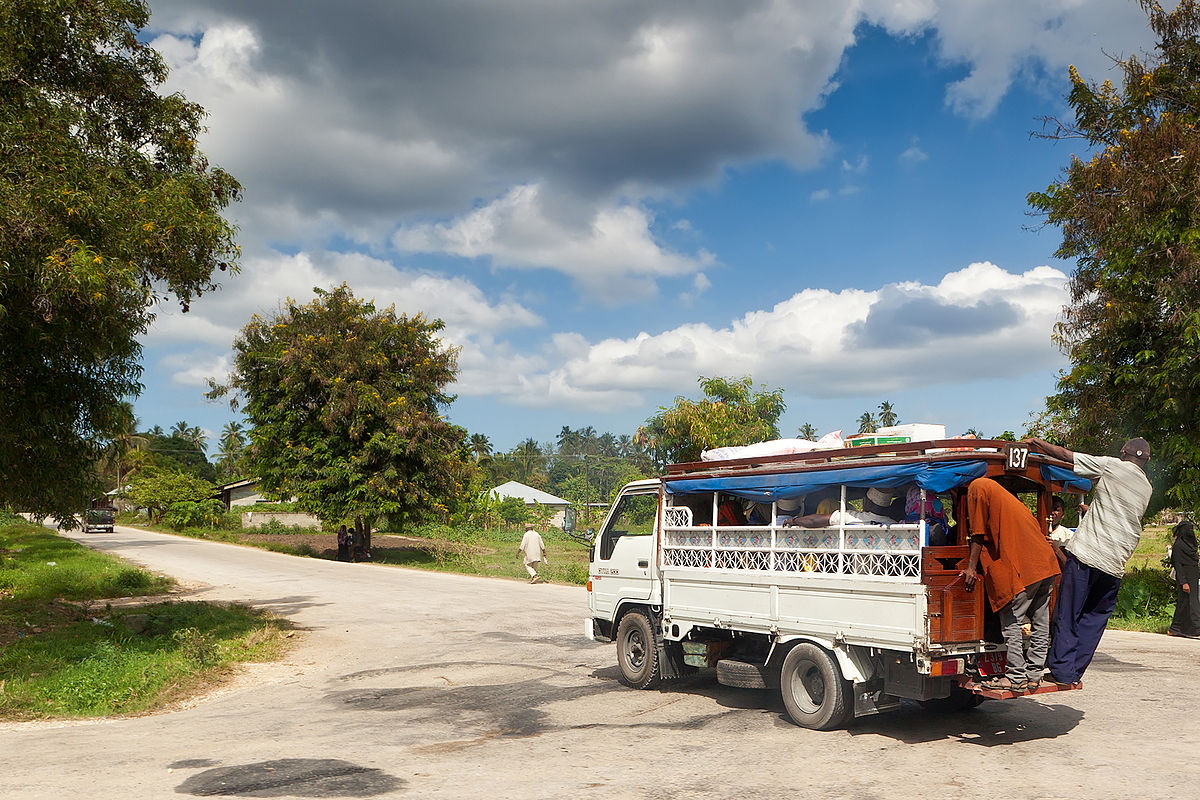 Source:https://upload.wikimedia.org/wikipedia/commons/thumb/9/91/DalaDala.jpg/1200px-DalaDala.jpg
There are five ports on the islands of Unguja and Pemba, so many people choose to fly to Dar es Salaam in Tanzania and travel to Zanzibar by ferry.

Zanzibar International Airport is accommodating to the influx of tourists and has been able to handle large passenger planes since 2011. That is also the reason why is the number of air carriers flying to the islands consistently growing. Some of these are Auric Air, Kenya Airways, Qatar Airways, Turkish Airlines, FlyDubai and Coastal Aviation.
3. Accommodation
Zanzibar is not the cheapest option in terms of accommodation. Even the budget hotels in Stone Town can charge USD30 per night and more. If this is out of your budget, but you still want to enjoy the islands, you will probably have to compromise on location, quality and most probably both. If you want to catch the best bargain, check the websites like www.tripadvisor.com or www.booking.com and make sure to book early.

If you want to treat yourself and budget is not your primary concern, you may prefer the beach life. Some of the nicest places to stay in Zanzibar are simple barefoot lodges, where you can relax and enjoy the natural beauty of the island. Many people choose to spend a night or two in Stone Town to enjoy the history and culture and then head to one of the many picture-perfect beaches.
One of the more affordable, but still luxury, introductions to the beach life is the Pongwe Beach Hotel on the East coast. No hordes of tourists will be waiting for you here to ruin your peace and quiet. The hotel owns the surrounding land so a deserted beach is a guarantee.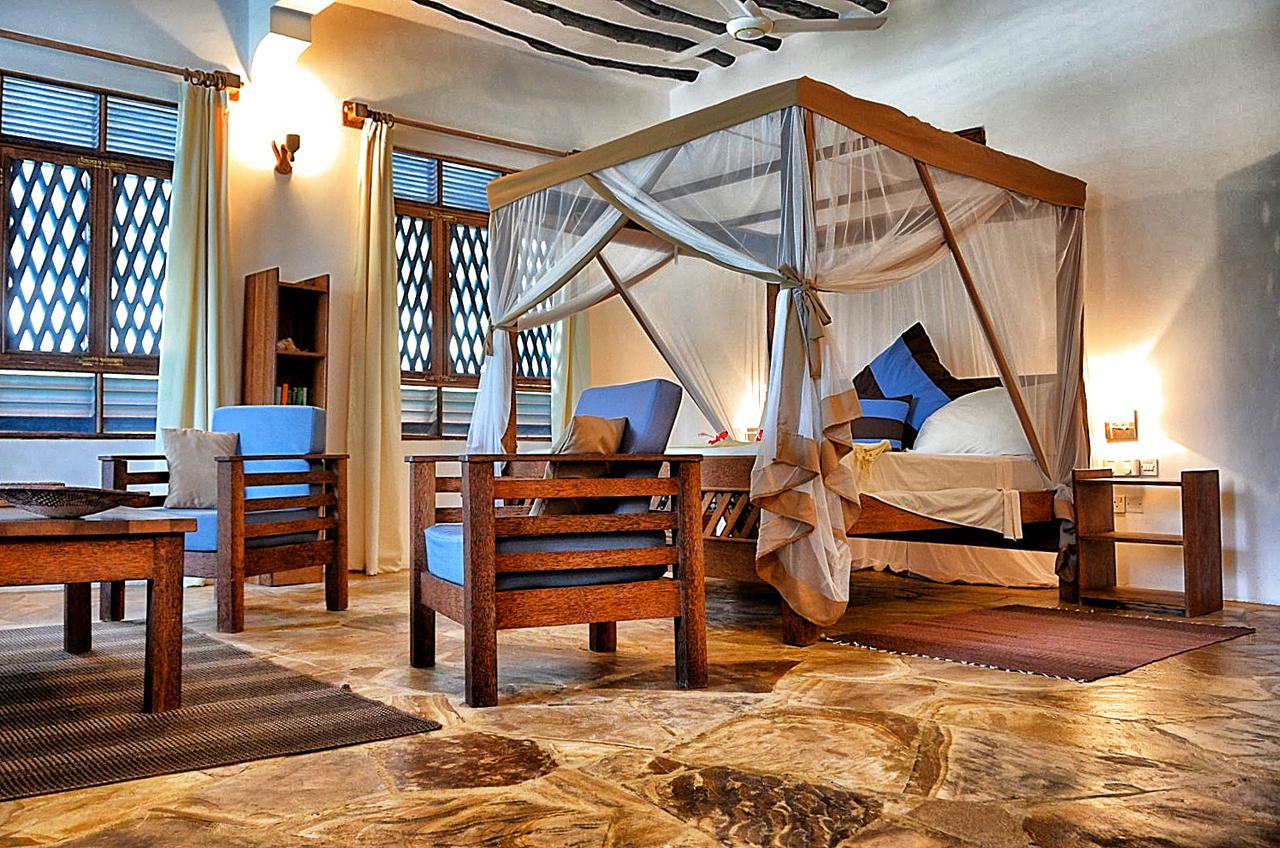 Source:https://www.cedarberg-travel.com/wp-content/uploads/cedarberg-pongwe-beach-hotel-seaview-suite-double-1.jpg
Wolfare- Travelling has never been easier  


Source:https://ticketspy.nl/deals/droom-weg-op-zanzibar-e699/
Other great budget options are Shooting Star Lodge or Indigo Beach, both located on the powder-white sand.
For the more demanding visitor, Next Paradise Boutique Hotel is the perfect option. And for a truly luxurious experience, try Chapwani Private Island. Who wouldn't like to have a whole island for themselves?
4. Traditional food and meals
Arab traders from the Middle East, Portuguese invasions, immigrants from India and the island's strategic location have made Zanzibar a melting pot of cultures and cuisines. What makes the local food so delicious is the combination of the spices from Middle Eastern and Indian cooking and the natural ingredients and seafood from Zanzibar.

One of the most popular of these combinations is Biryani. It is a meat or fish curry accompanied by rice cooked in a variety of spices.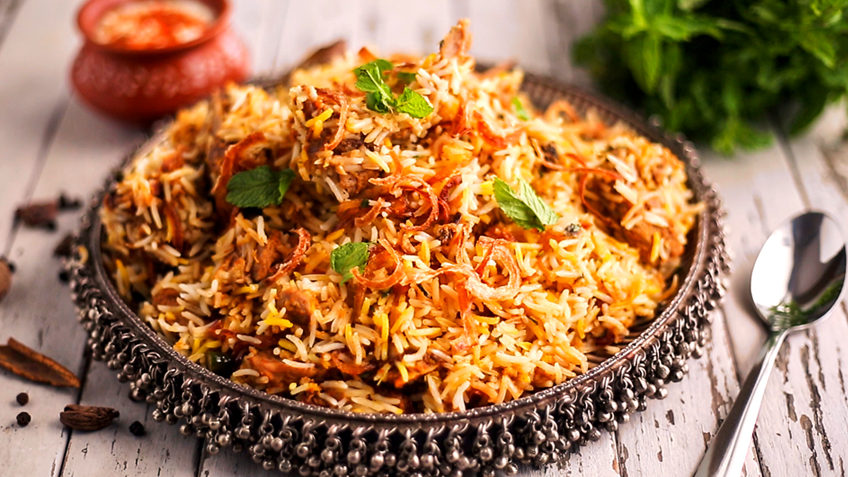 Source:http://www.cooktube.in/wp-content/uploads/2017/08/mutton-biryani.jpg
Octopus is a popular ingredient in Zanzibar and therefore, Octopus Curry is Zanzibar's favourite seafood. You can find it both in street stalls and in fancy hotels and restaurants. Slices of octopus are normally cooked in a blend of rich spices like turmeric, coriander, and then simmered in thick coconut cream gravy.
A true local speciality is the so-called Zanzibar Mix (but the locals call it urojo). It is a unique creation which consists of crispy fritters mingled in curry gravy and topped with more crispy fritters.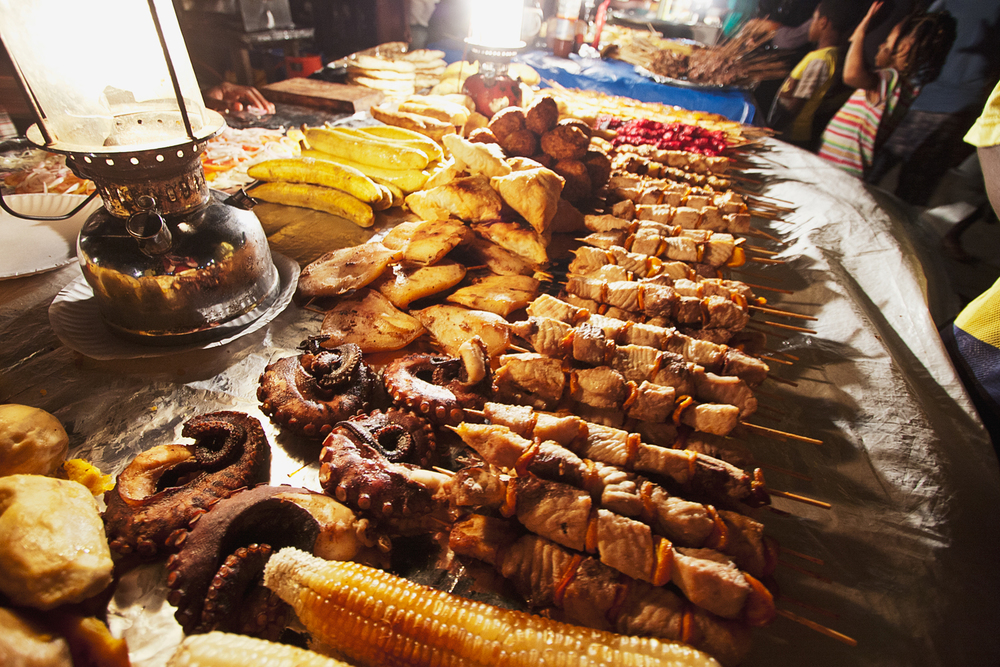 Source"https://static1.squarespace.com/static/50635cc5e4b022af2b9bac50/5136e302e4b0aafa8d3efce4/5136e30ce4b037a1b7eb036b/1362551580375/a8.jpg
A mandazi is basically the Swahili version of a doughnut, a deeply fried lump of dough that's lightly sweetened and occasionally seasoned with a hint of cardamom. The dough is usually cut into a triangular shape, then deep fried until it turns dark golden brown, and usually enjoyed with a hot and sweet cup of chai.
Durian is one of the world's most unique and amazing fruits and it is available only in Zanzibar and only during the season.
Be sure to try the ginger beer - tangawizi.
5. Visas and licences
No visa is required for stays of less than 3 months for citizens of South Africa, Namibia, Romania, Rwanda, Hong Kong, Malaysia and all commonwealth member states (except the United Kingdom, Australia, Canada, Bangladesh, New Zealand, Nigeria, and India).

A Tourist Visa costs USD50 for a three-month single entry or USD100 for a three-month double entry visa. The visa can be obtained from local authorities upon arrival.
6. Vaccinations
You should be up-to-date on routine vaccines like measles-mumps-rubella (MMR) vaccine, tetanus vaccine, chickenpox vaccine, polio vaccine, and your yearly flu shot before every trip.

It is recommended to have a Hepatitis A vaccination because of the possibility of contaminated food or water in Tanzania.
You can also contract typhoid this way, so if you are staying with friends or relatives, visiting smaller cities or rural areas or you are an adventurous eater, this vaccination is also recommended.

The government of Tanzania requires proof of yellow fever vaccination upon arrival if you are travelling from a country with risk of yellow fever.
7. Healthcare
The main public hospital on Zanzibar Island is Mnazi Moja General Hospital. It is located on the south side of Stone Town. It is wise to remember that this is a developing country, therefore even though the staff is very dedicated, the wards are under-funded and in poor condition. In case of real emergency, the nearest major hospital, fully staffed and equipped, is the Aga Khan Hospital in Mombasa.

There are private medical clinics and most tourists go there. The service is better and staff speaks English. Even though these have to be paid for (around USD50 per consultation), all fees should be covered by your travel insurance. The medical centres also have pharmacies selling medicines and other supplies.
8. Required equipment: what do you need to pack?
Zanzibar is warm all year round and can get very hot, so clothes perfect for warm weather are a must. However, keep in mind the island is filled with conservative Muslims, so be sure to dress in things that cover shoulders, midriffs and thighs.
Walking around the island can be a beautiful experience, but the roads are full of hazards like rocks, vines and animal dropping. It is a good idea to pack a good pair of hiking boots.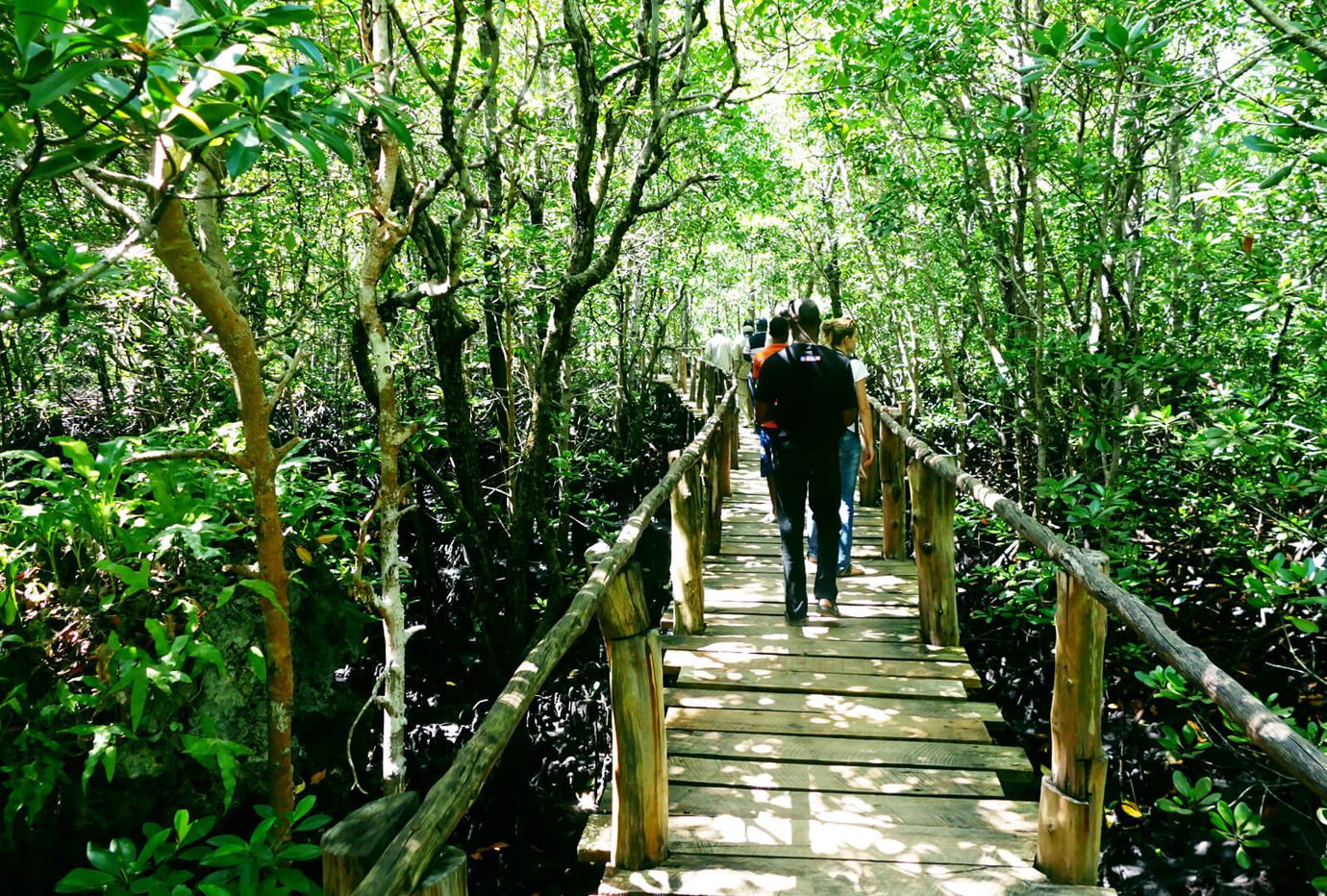 Source:https://www.discoveringtanzania.it/img/gallery/Jozani-Chwaka-Bay/ponte-nella-foresta-parco-jozani-chwaka-bay-tanzania-africa.jpg
Of course, sunscreen is a must for the beach. Other pieces you might want to throw in your luggage are mosquito repellent, a backpack and guidebooks.
9. Insurance
Comprehensive travel insurance to cover theft, loss and medical problems is highly recommended.
Some policies specifically exclude dangerous activities such as scuba diving, motorcycling, skiing and even trekking, so if you plan on taking part in these activities look out for it in the fine print.
It is also a good idea to check the policy covers ambulances or an emergency flight home.
10. Weather conditions
The popular holiday season, from June till September, marks the long and dry four months on the island. The levels of rainfall are low and average temperatures are around 25°C. The heat of the summer is often cooled by strong sea breezes associated with the northeast monsoon.
October till December marks a period of heavy rain. Temperatures rise, often getting into the 30s, and it is generally very humid.
11. Dangerous places
In the tourist areas around the waterfront in Stone Town, mainly Kenyatta Road and Shangani Road, tourists can be bothered by all manner of papasi and touts. These will try to offer you taxis, spice tours, music, gifts, etc. They usually don't respond when you say NO and the best thing to do is to just keep walking.
Take care of your luggage; maybe even consider buying a lock for your suitcase. Airports in Africa are not as strict with their workers in regards to theft.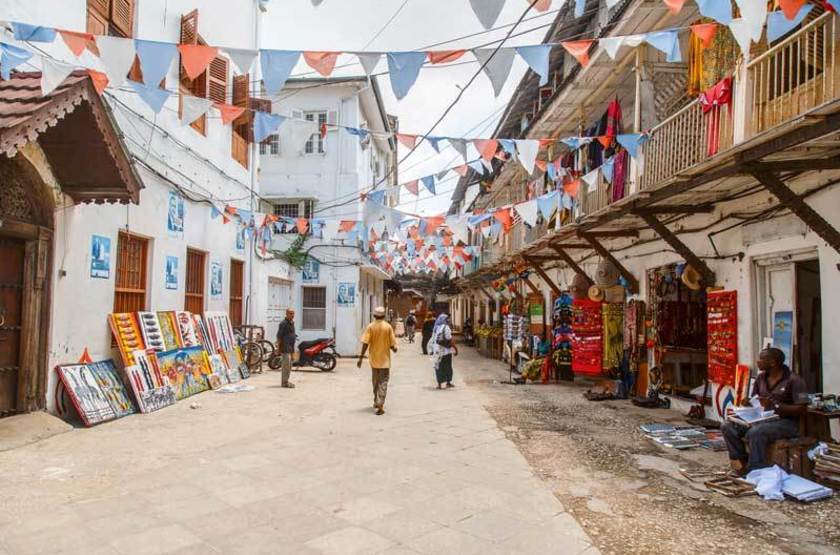 Source:https://www.cheapflights.co.za/news/wp-content/uploads/2017/12/how-to-spend-24-hours-in-stone-town-zanzibar-05-620x414.jpg
12. The political situation, safety and criminality in the country
In 1964 the United Republic of Tanganyika and Zanzibar was renamed as the United Republic of Tanzania, within which Zanzibar remains a semi-autonomous region. As this, Zanzibar has its own government, known as the Revolutionary Government of Zanzibar. The autonomous status of Zanzibar is viewed as comparable to Hong Kong. That's why some call it the 'African Hong Kong'.
Although Zanzibar is generally safe, it is wise for tourists to keep their wits about. Never carry a large amount of cash, wear minimum jewellery and do not confront attackers.
13. Additional information

Always remember that Zanzibar is a predominantly Muslim country, so make sure you are dressed in a t-shirt and knee-length pants. Walking through towns and villages in beach attire is considered disrespectful.
It is also regarded as disrespectful to show public affection.
Be discreet when drinking alcohol, especially during the Ramadan, the month of fasting. Travellers should avoid eating, drinking and smoking during the daytime.


Source:https://photos.tpn.to/ep/sf/op/ff/653x490.jpg
14. Main Facts
- Capital city
Zanzibar City (Stone Town)

- Currency
Tanzanian shilling (TZS)

- Official language
Zanzibaris speak Swahili (Kiswahili)
Many local residents also speak Arabic, French and/or Italian

- Calling code +.
+255

- Area: km²
2,461 km2 (950 sq mi)

- Time Zone
GMT + 3

- Drivers: right or left side
Left

- Religion
Zanzibar's population is almost entirely Muslim with a small Christian minority, whereas Tanzania has a Christian majority.
Written by redactor of wolfare.com: Zofia Hrebickova
Wolfare- Travelling has never been easier